Although the season for bright, blooming flowers had already passed, there were still green remnants of spring visible under the spring showers at the edge of Namsan. After finally passing the vast US Army base, I came across a small, quaint village down the road. There were side roads that were barely wide enough for a single car, and along these roads were shops and houses that served as a snapshot of life in this area. Located within the small buildings was the Dalggott Creative Center, whose neon sign hanging from the glass façade was barely visible behind a near-wall of posters. Just as I was thinking about all the meaningful work being done here, I was greeted by two dogs, who are secretly known as part of Dalggott's external cooperation team.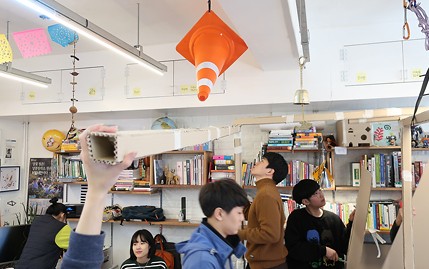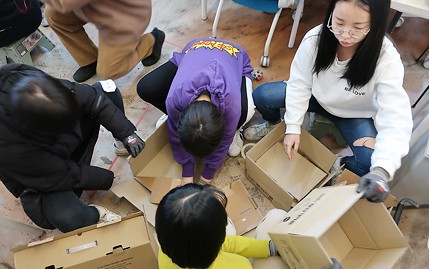 Education Makes the Man

The Dalggott Creative Center is a youth arts education organization operating in Huam-dong. It first began as a weekend meetup for children in the area, eventually transforming into the research and educational institute that it is today. Perhaps that explains why it appeared rather unorganized when I visited, with its educational materials and the students' projects spread out all over the place; however, this did not detract from its lively atmosphere. I was curious to find out what inspired CEO Choi Gyu-seong to move to Huam-dong and pursue educational activities in 2013 Summer after visiting the Namsan area to enjoy the cherry blossoms and the sight of the moon.

"When I was in graduate school, I came to the realization that the lessons I learned when I was younger had a big impact on my values later on in life. There always comes a time when one has to express his or her opinion. I tried to find the reason for those times when I would witness discussions where the evidence behind people's ideas or opinions were not clear. In most cases, this happened when people tried to discuss things that they had learned or heard from adults or their teachers when they were younger, and this came as a huge shock to me. That's when I realized that education is important in how an individual develops, and it was not until I moved to Huam-dong in Yongsan-gu that I put this realization into action.

Experiments That Lead to Change and Experiences, the Fruit of Trying

Dalggott Creative Center did not always have a space to call its own when it first started. Every Saturday, in an effort to meet with youth in the town, it would use an empty architecture office to hold its meetings. Chair of the Women's Association would introduce children to the group and they would all gather to cook and eat together and go visit exhibits. What started off as just a simple Saturday meeting for fun changed when local artists showed interest in conducting programs for the children. And so, Dalggott soon began to grow into a more developed, richer Saturday school. Although it had previously used empty spaces in local offices, churches, and temples, it finally created a much-needed space in 2015. What changes did Dalggott go through once it had a place to call its own?

"After creating our own space, Dalggott's programs went through a lot of changes. There were efforts made to create a more structured system. Before programs, big and small, were held throughout the week, on both weekdays and weekends, and many students stopped by after school to spend some time before going home. Now that we had a space to use, it was easier to collaborate with local resources and handicraft workshops to offer new classes, particularly with schools, which showed great interest in operating their extracurricular programs at Dalggott. At this point, our identity shifted to also include that of a research institute in order to develop the necessary skills and activities to accommodate with all the changes. From the outside, although our center appeared to be nothing more than a Saturday cultural school, a lot of trial and error was going on from the inside. (Laughs.) Trying out different things, even the mistakes along the way, were all important in Dalggott's development.

There was a time when you were swamped with class preparations and cleaning up after each class, to the point that you had worked together with five other people. This was a time when you were operating public projects and just experimenting in educational contents. Now, thanks to collaborative efforts with local institutes, you are creating more abundant contents while, at the same, expending the limited energy there is between you and designer Hong Yeon-suh at greater capacities.

Dalggott is defined as a youth arts and culture school and NPO, and it is also a research institute that explores content creation from new perspectives. Mr. Choi, you have explained how one's thoughts arise from one's experiences, and how one's perspectives come from there. According to philosopher John Dewey on education, getting students interest and maintaining that interest are of utmost importance. When developing a class plan, it is important to observe first in order to determine how to spark that interest. It is clear that you consider getting students interested to be the most important factor in education, which is perhaps why you have taken such a leading role in helping children discover and better understand themselves. What would you consider to be the important components of Dalggott in arts and culture education and what values have you come across in the process?

"Most certainly it would have to be experience, along with relationships and imagination. There is a whole different world within the realm of experience. When I talk to young adults, those who experienced their adolescent years, the thing they tend to remember most from Dalggott is the relationships they had with adults, not the program itself. They regard the relationships made through arts and culture education as most important than anything else. People have come to use the term "local relationship" when discussing the trust built within a specific region as relations grow closer. We often mention how, thanks to the relationships created through arts and culture education, there will be a time 10 years or even 20 years from now when we will meet again. Also, I think it is important that we touch upon imagination as well. Imagination is an invaluable process and desire of our lives, not only allowing us, but also pushing us to transcend the ordinary. Taking that into consideration, I think that imagination is an important asset to our youth in allowing them to approach every situation with curiosity and explore new things without losing sight of who they are even in times of uncertainty. Equipped with this powerful tool, youth can overcome any obstacle they encounter, which is why it is so important during one's adolescent years.

The emphasis that Mr. Choi places on "imagination" is the first of the nine educational areas that Dalggott has focused on throughout its nine years of activity. When considering our educational concept of "expressions that imagine and imaginations that express themselves," creating a world of imagination is, in essence, an active means of expression. To express is to show one's inner thoughts and emotions in a very personal and unique way. At the same time, it is a way of taking those inner aspects of one's self and showing them to the outside world. By doing so, this builds a sense of perspective on the world, which is why expression is so important. In order to express one's self, one needs some level of imagination, and in following through with such expression, one inevitably shares his or her values and perspectives with the world. In other words, our expressions overshadow what we tend to show on the surface, revealing how we view, understand, and reflect upon the world around us.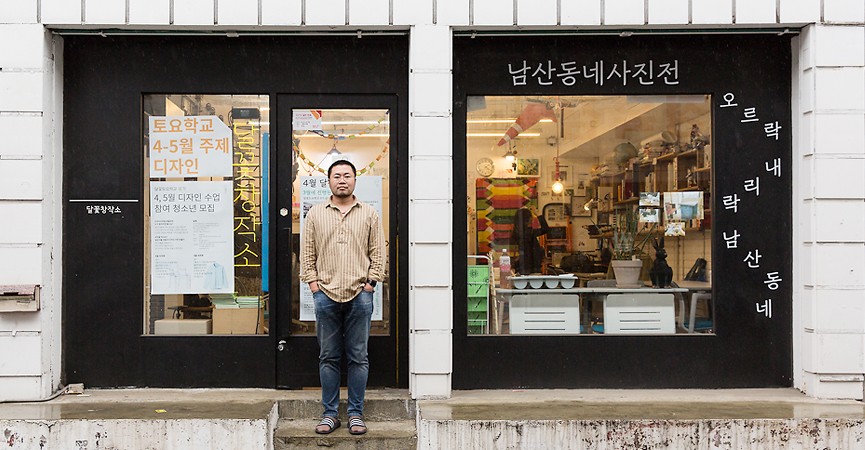 Education and Dialogue for the Individual

In order to ensure that children grow, Mr. Choi believes that a highly detailed program is necessary. Even if children are unable to empathize with others from the beginning, over time, through various experiences, they will build the emotional intelligence necessary to communicate effectively. This is why Mr. Choi emphasizes how emotional development is important in that it leads to experiences based on communication. What exactly are the characteristics of a youth education program that focuses on communication?

"When working with adolescents, there are many instances when educators find themselves talking one on one with a student. It is important that educators assess the situation when communicating and build their educational strategies accordingly as they learn more about their students. This is one reason why I am skeptical about TV or online educational programs. It is not exactly easy for children and adults to communicate with each other, but education can be used as a tool to facilitate such communication.

I once created a shirt designing program for a friend. As someone who works in third party education, I firmly believe that it is necessary to take interest in even the smallest of demands, even if they are part of the minority. I have come to the realization that there is very little experience to be gained from partaking in education designed for the masses, lacking any sort of unique characteristics in advertising to audiences. This is because it is unclear what the goals or points of interest in the entire process are. I believe that there is more meaning and more room for assessing progress when working on programs whose scopes are comparatively narrow but much denser. Granted, no matter how much you reduce the breadth of your audience, it is hard to create a program that is designed for a single individual. And yet, we also conduct classes on a one on one bases. (Laughs)."

The conversation that was initiated between teachers and students soon expanded to reach collaborators as well. There was a thick folder on top of the desk with materials on a program that was being planned in collaboration with an architect's office that had never worked in adolescent education before. It was clear that this was a strong collaboration with extensive efforts, from creating the classes to considering what would be necessary to effectively conduct them. Despite the lack of prior experience working with children, the evidence of hard work in preparations showed an undeniable desire to provide a sort of user's guide to approaching youth education and facilitate a healthy relationship between coordinator and students.

Local Headquarters, Trust Built Over Time
"School teachers learn about Dalggott from the students."

Since three years ago, teachers have been increasingly interested in Dalggott after hearing about it from students who experienced Dalggott's programs first-hand. Many educators who visit inform us that they are preparing to create new classrooms and want to benchmark our center. Others, in the process of creating alternative classes, ask us to take charge of arts classes, and we have successfully started these programs with some schools. Through cooperative agreements with schools, Dalggott has been able to more actively show the potential for change. Now has come the time when children who were once in middle school are completing their military service and coming back to visit. Educators at Dalggott feel a sense of pride and reward in watching students grow in different ways. The signs of change are most felt at the local level, which is why our teachers can see it so clearly.

"At first, I never thought of creating local headquarters. I felt that it appeared unprofessional and small, somewhat minimizing Dalggott's potential. That is also why there is no mention of the local level in Dalggott's introduction. However, I came to notice that relationships are not lost but, rather, built in greater numbers over time. On a similar note, at the local level, the more time that passes the stronger the impact there is on trust. There were certain instances when representatives from schools sought our advice regarding students who wanted to drop out or who were not having positive academic experiences. We helped them carefully consider their options and encouraged them to sign up for classes at Dalggott, culminating in an unprecedented case of collaboration. There were a total of five students who came to our center in this way, and it was certainly an amazing level of collaboration on the students' part. Thankfully, all of the students returned to school and either ended up graduating or are currently attending under much better circumstances."

During the process of growing together with the local population and sharing experiences, there came a point when high school students began to express the stress and pressure of worrying about future employment. In response to this, Dalggott, in living up to its calling of helping youth in need, is investing its time and resources to provide students with career counseling.

"Adolescents really want to figure out what they want to do in the future. Although many adults feel as though today's youth do not have such concerns, more often than not they are actively struggling to find their path in life. I believe that it is important to guide them in finding an appropriate career path and exposing them to options that they might not have even known existed. So, I introduced the program "The People's Book," which mixes arts and culture education with career counseling. This program, along with other various programs that offer students opportunities to meet adults from different fields, are all being offered to help today's youth better prepare for their futures."

The magazine Other Education aims to identify and develop different types of education through research. By fostering creativity and imagination, it broadens students' perspectives to new options and possibilities and stresses that they should never stop dreaming or trying out new things. It is clear that they represent the common goals of educators and educational program coordinators alike in stressing the importance of experience.

Young adults gather at the Dalggott, which now celebrates its seven-year anniversary since its founding. Preparations are in place to create a new space and work together with these individuals, who had attended the institution when they were younger, in creating the "2030 Monster Workshop" and the "Monster Parade". Although the exact time is uncertain, sometime in the future there are plans to create a space that adolescents and young adults can operate and manage autonomously. I hope that Dalggott's developmental experiences will come to include creating this empty space where adolescents and young adults can gather, work together, capitalize on their synergy, and move together by their own, mutual accord.

Following the interview, it felt as if I had participated in "The People's Book" program myself. It made me realize once again that dialogue is similar to friendship, and I will surely keep everything I learned during this exchange with Dalggott close to my heart.

Choi Gyu-seong
Choi Gyu-seong completed his undergraduate studies at Hongik University School of Art, where he also received his MA in Arts Studies. In 2013, after coming to see the cherry blossoms, he fell in love with the Namsan area and moved there, later starting the Dalggott Creative Center. Since then, he has served as CEO of the institution, as well as Operations Director of the NPO People of Yongsan. He was officially merited in 2012 by Gangwon Province for contribution in hosting the 2018 Pyeongchang Winter Olympics, in 2014 by the Metropolitan City of Seoul for community efforts in villages, and in 2018 by Yongsan District Office for his efforts as chair of the working level meetings for the Yongsan Innovative Education District.